16 mars 2008
Senna river watercolor
I think I did this watercolor three years ago (when I still used to paint watercolor paintings) for a friend. I take inspiration from a picture of the Senna and at the end I was really happy because the result was better than I expected; if you've painted with watercolors before, you know that is really a hard technique to master, just like is very quick to get nice results, also you really need to have a plan before put the brush on the paper, because once you've made the stroke you have sometimes to react very quickly.
Let me share some tips of this painting with you:
For the clouds I dampen the paper slightly (only where the clouds are supposed to be) with some clean water and then with a nice hue of blue (phthalo blue) I painted the sky leaving some blank spaces for the clouds. Take some towel paper or napkin paper if you notice that the blue is spreading too much.
For the trees and plants I used a "sea sponge" (one of my favorite painting tools) and starting from the lightest color (yellow), I made some sponge prints on the paper.
For the water I used some layers of painting. The first layers are very transparent and then the successive ones are more opaque, so that means that you have to use less water at the time of mixing the watercolors. At this time take advantage and while the paint in the river border (just next to the wall) is still damp take some earth hues and paint slightly on the border, use this same technique for the boat border.
For the boat waves use some sandpaper. Use it carefully and slightly.
Here is the painting: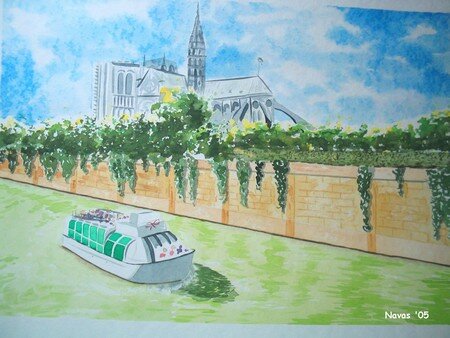 Finally I wish I could have some free time, lately I have a lot of things to do regarding the University, the work, etc. So is since a while that I don't paint but in the near future if God gives me life, I'm going to paint again. I remember that times when I used to paint, I felt very spontaneous and happy!
See ya later and as always thanks for reading :)
Commentaires
Poster un commentaire