07 avril 2008
Notebooks
I was doing some Inkscape drawings lately, I would like to say that I enjoyed a lot when I was doing them and more since the Inkscape 0.46 release!
In this time I did some notebooks that I would like to use for some icons in a project that I'm working (FIGURE 1).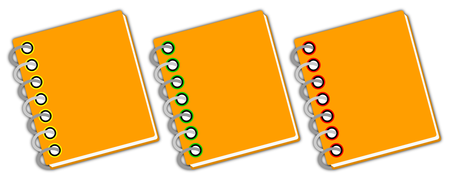 FIGURE 1 The Notebooks
One of the main problems that arise when I was drawing this notebook was the rings in the notebook's side, because they suggest that are above the notebook cover but also are below (confusing, huh) and more when you have to deal with the layers used in Inkscape. Well the only solution that I found was to accurately select and move the nodes that make the ring in a way that I can make the effect believable (FIGURE 2).

FIGURE 2 Moving the nodes that make the ring to suggest the ring goes behind the back cover
Some other problems that I found were the aligning of the rings and the ring holes, also the space or separation between the ring holes. I think this could be easier when you work with a vertical notebook since the beginning but I worked in a kind of perspective way since the start. To solve this I used some temp rectangles to help me align the stuff, a big one for the rings and some little ones for the ring holes.
Finally maybe this notebook could be useful to you and some of your projects. If you find it useful, I don't have a problem if you don't mention or credit me, maybe just leave a comment just to know that you used it and that it was helpful to you.
Bye
Inkscape source file: notebook
Commentaires
Poster un commentaire