29 juin 2008
mouse doing his homework (I'm back!)
This painting reminds me of the time when I used to give drawings and paintings to girls just to impress them and maybe get a date :) fortunately those times have passed away and now I know a bit more of how to conquer girls and not get too serious (yes, give some flowers or drawings to a girl that you just met some days ago it's not a good idea) too soon.
About the painting, it's done with watercolors and consist of a mouse doing his homework (here in El Salvador, we call this type of homework "planas" and basically consist of repeat over and over again a symbol or character just to make your writing better).
In the painting I remember that I tried to make the mouse wear some "cool jeans" and that was the focus in my painting. And what makes some cool jeans? well I think that maybe the jeans should look a little bit old and scratched, so to make the effect believable I did the following:
Grab some cool brush
Prepare the blue of the jeans (maybe a mix of phthalo blue with cobalt blue)
Fill the brush with the blue color that you just created
This is the important trick, make sure that the brush just get slightly filled with blue, just remove the excess of blue maybe with a napkin paper.
Make a few brush strokes, you'll notice that the stroke is kind of "dry" and it leaves some blank spaces interlaced with blue.
Here is the final drawing: (FIGURE 1)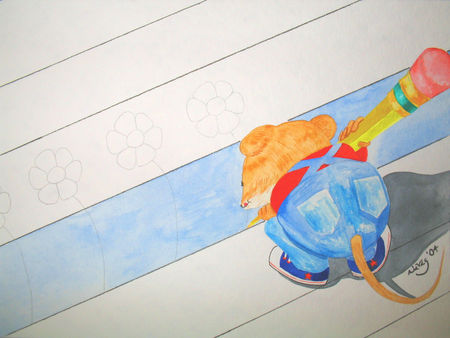 FIGURE 1 A mouse doing his "planas".
See ya soon! :)
Commentaires
Poster un commentaire