20 mai 2009
Painful Source Of Inspiration Part 1: Greeting Cards Using Xach Effect
Hi everybody :)
Some time ago I said that I'll not use drawings or paintings to impress girls and get dates, because "those times have passed away and now I know a bit more of how to conquer girls", it seems that I never should have said that.
I met a girl three months ago, normally I would not try to hit on her, because when I first got introduced to her she was working in another department of the company, and also I rarely interacted or see her, but then one day she asked me for help in programming stuff that she was studying in the university. I accepted to help (how she knew that I know a little bit about that computer things, is unknown to me).
In a short time we become very close friends and I thought it were a real connection with her, she understood and laughed at my jokes, she listen to my stories and thoughts, also she asked me a lot of questions about my life, my tastes, how my day was, and another things...
One of the great things of being close to her was that I felt good, and that I could show her the "real Coche", the real me. The weeks were passing and I finally decided to give it a try and ask her out... Her answer came, "I see you as a friend and more than a friend a brother". Ugh that hurts :(
Well lets stop talking about sad things, instead let the tutorial starts!!
I think that probably there is a lot of tutorials about Xach effect, but I want to write one myself :) because Xach effect is one of my favorite GIMP effects, I really like it. By using Xach effect you can easily create nice looking greeting cards for your friends.
Lets start by choosing a picture that you like, or that you know that probably your friend likes. I chose a nice picture of a tiger drinking milk that I found on the Internet. Now grab the text tool and write your message, I chose a thick font called "Snap ITC", also remember to change the text color to white (FIGURE 1).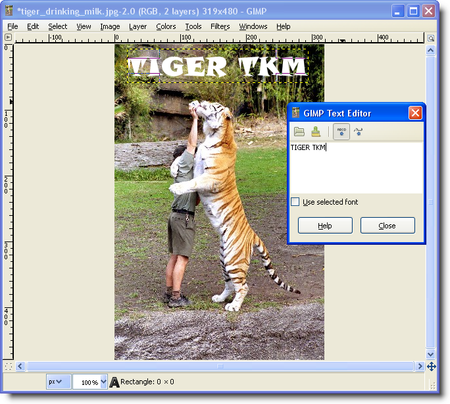 FIGURE 1 Use the text tool to write your message.
Now comes the cool part, go to Filters > Light and Shadow > Xach-Effect... in the dialog that appears just leave the defaults and click in OK. And here is the little trick, in the layers dialog hide the layer that contains the text. (FIGURE 2)
FIGURE 2 Hide the layer that contains the text.
Remember that you can apply the Xach effect not only to text, but also to shapes. In the tiger example, I created a nice tiger paw shape in Inkscape, then I imported the shape in GIMP and applied the Xach effect to the paw shape (the paw was also white). Finally I added another text message above the paw. (FIGURE 3)
FIGURE 3 The finished greeting card.
Now you can impress you friends, sending to them a cool greeting card!
* Stay tuned for the part 2 and final of the painful source of inspiration
Commentaires
Poster un commentaire